In 2022, Vietnam and Austria celebrate the 50th anniversary of the establishment of diplomatic relations, the establishment of the Vietnam - Austria Friendship Association is of great significance, which practically contributes to promoting the Vietnam-Austria friendship cooperation into depth, becoming more cohesive and durable.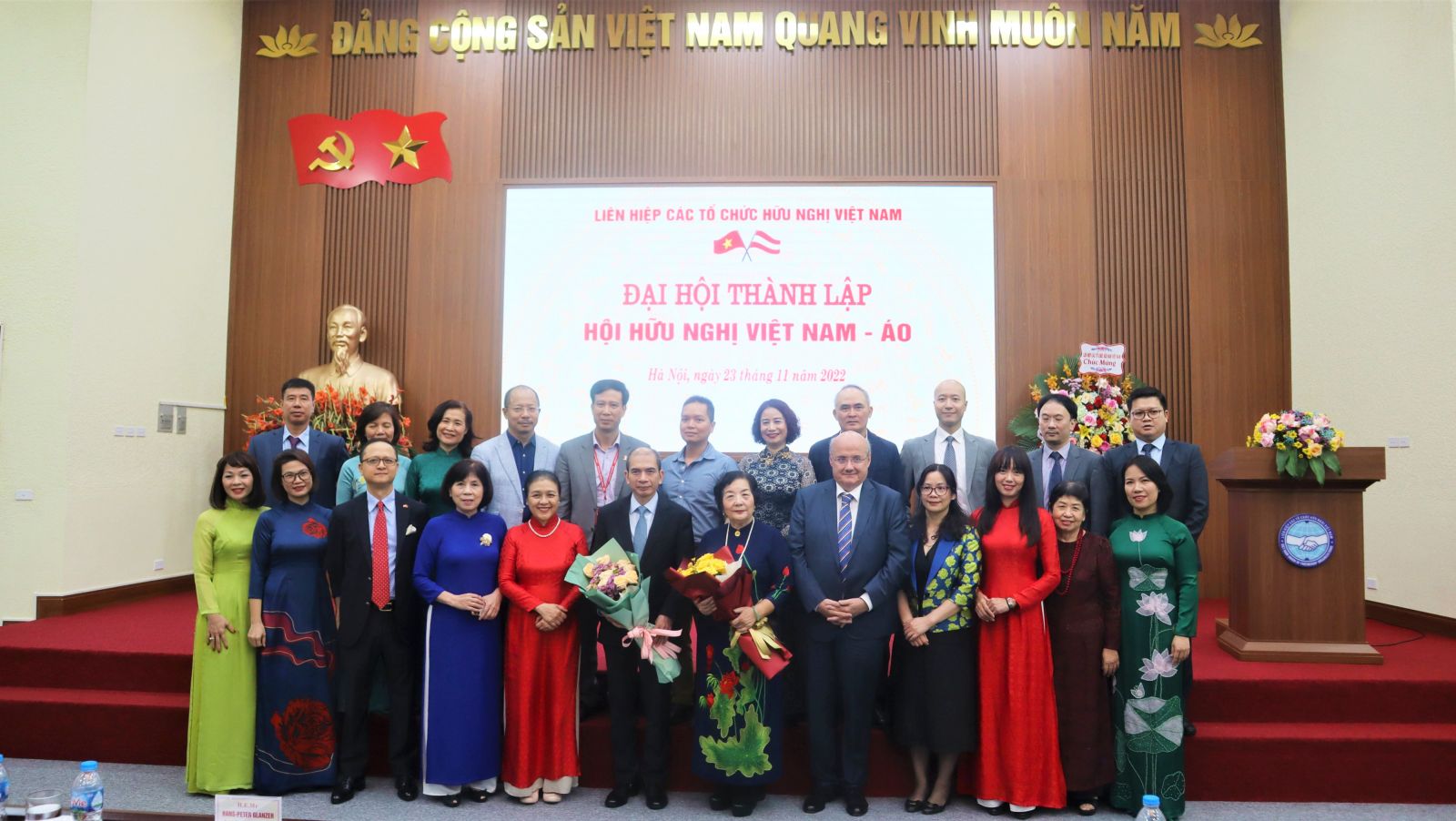 The new executive board's members.
According to Decision No. 877QD-BNV on allowing the establishment of the friendship association, the association's activities is to gather and unite members, and organize effective people-to-people diplomatic activities between Vietnam and Austria in order to contribute to the growth of the association, strengthen the friendship, understanding and cooperation between the people of Vietnam and the people of Austria.
Mr. Nguyen Do Tung Cuong, Chairman of NDTC. Companies, has been elected to hold the position of Vice Chairman of the association for the first term (2022-2027).
The association will be a bridge to promote cooperation activities in the fields of politics, economy - trade, education, culture, information and communication, tourism, sports and other fields of cooperation between Vietnam and Austria, serving the interests of the people of each country, for peace, cooperation and development in the region and in the world.
Read the full article here:
https://vufo.org.vn/Dai-hoi-thanh-lap-Hoi-Huu-nghi-Viet-Nam---Ao-11-97684.html?lang=vn&fbclid=IwAR2j4j9nXq2Bl-Bfbk-R-dbuGRRnho-mYVqjSITGR0WIbfGigNhFvJ0F4ng
https://dangcongsan.vn/doi-ngoai/phat-trien-moi-quan-he-huu-nghi-va-hop-tac-giua-nhan-dan-viet-nam-ao-625413.html
https://www.qdnd.vn/chinh-tri/tin-tuc/dai-hoi-thanh-lap-hoi-huu-nghi-viet-nam-ao-711880
https://thoidai.com.vn/thanh-lap-hoi-huu-nghi-viet-nam-ao-cau-noi-vun-dap-quan-he-nhan-dan-hai-nuoc-178895.html?fbclid=IwAR2Cn3Jnu0-k3tkh2tJ6lXyvgqLW8ErbEBz1rYnE46DnOKWAvSetyXiMljE